I just ordered our Christmas Cards from Shutterfly.
Usually I create my own cards and print them myself, however this year we received a promotional offer through Chris' work and I was able to save tons of money.
I searched through all of their cards and found the perfect one for our family!
After checking out on the Shutterfly website, I was able to embed my card to Blogger and will receive a $10.00 coupon for doing so!
Savings all around!!!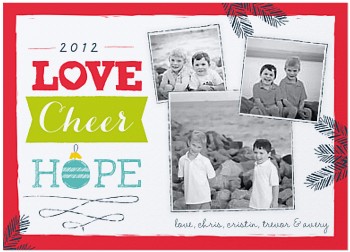 Fir Tree Wishes Holiday Card